Perfect: although each face needs a series of specific care to look healthy, and despite being subjected to aspects that are difficult to control, such as hormonal changes, pollution or weather changes, there are common keys for all that we can apply daily, without the need to make a large investment in advanced cosmetics and that will help us show off beautiful skin all year round.
Daily Skin Cleansing Perfect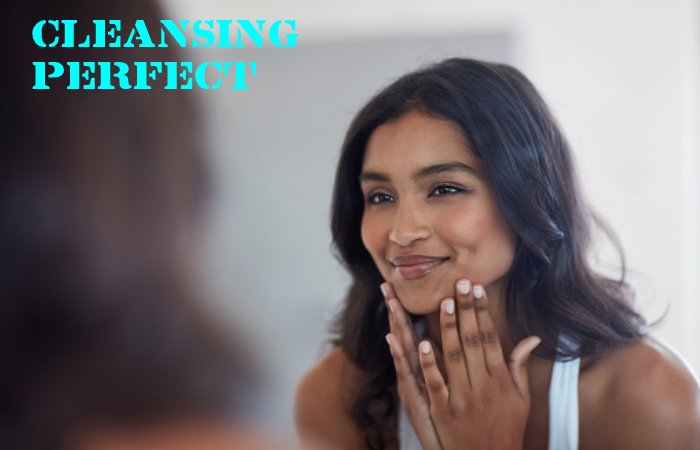 For our skin to be healthy, we must clean it daily and before bed.
The skin never rests, so dead cells continually accumulate on our face due to external agents, such as pollution or its natural regeneration process. It is necessary to eliminate these cells to look bright and healthy correctly.
The basic daily facial cleansing protocol should include cleansing milk and a facial toner. These two products will clean it properly while respecting the hydrolipidic mantle of the dermis.
A Cleanse For Each Skin Type
Depending on our skin type, whether it is dry, normal, combination or oily, we can use one kind of cleansing product or another, since, for example, for combination or oily skin, it may be convenient to use a sebum-regulating gel make-up remover…
It is advisable to carry out a peeling with a  manual facial scrub with a certain periodicity (once a week or every two, depending on the characteristics of our skin) to achieve a deeper cleaning.
On the other hand, to keep the skin of our body as healthy as that of our face, we can apply a  body scrub weekly, and we must moisturize it properly every day after showering.
Care Routine With The Right Cosmetics
After daily cleaning, we must apply our cosmetic care products adapted to the needs of our skin type, age, etc.
Younger skin will need more hydration, while mature skin will need active ingredients to repair, regenerate, ton, and rejuvenate.
This facial care routine may include:
First, eye contour.
Second, facial serum.
To finish, the day or night cream.
Perfect
What is important is that these cosmetic products are of quality, that they allow our cells to breathe properly and nourish our skin with the active ingredients it needs to look healthy and be protected.
Solar Protection
One of the common errors is not using sun protection on the face daily with the false belief that if we are not going to sunbathe, it is not necessary. Solar photoprotection must be includ in our daily care throughout the year.
For day-to-day use, many makeup bases or creams contain sun protection factors in their formulation, protecting against UVA and UVB rays and preventing wear and tear on our skin.
Prolonged sun exposure of our body without protection can cause dehydration of the skin. Produce spots generating an uneven tone, burns, redness. Inflammation, and develop more serious problems in the long run.
Healthy Living Habits
Maintaining healthy lifestyle habits such as a balanced diet rich in fruits and vegetables. Drinking at least two litres of water a day, exercising regularly. Sleep for a minimum of 8 hours and stay away from caffeine, sugar. And tobacco will help our skin to remain free of toxins, regenerate faster and look more hydrated, energetic and luminous.
Observe And Monitor Your Skin Perfect
Observe your skin regularly and carefully. This time that you dedicate to it will make you detect any change that occurs in it more quickly. And you will be able to act appropriately by adapting your daily facial and body care protocol.