Spring brings warmer weather and a sense of renewed energy. Many people want to get outside after a long winter of being cooped up in the house, but they may not know how to take advantage of the nice weather. If you're a senior looking for things to do, we've rounded up 11 fun spring activities for older adults.
Gardening
If you have a green thumb, gardening is one of the best ways to get outside in the spring while beautifying your yard. Even if you don't have a garden of your own, you might be able to volunteer at a local community garden or botanical garden so you can still get your plant fix. You can also find gardening classes to learn more about local plants and gardening techniques while meeting new people with similar interests.
Birdwatching
Birdwatching is best done during mild weather when the birds are active, so spring is a popular time for this activity. Since pretty much every region has birds, birdwatching can be done anywhere that you live and doesn't require extensive travel, unlike certain other types of wildlife watching. Grab a pair of binoculars and a guide to your local birds, and then choose a day with nice weather to start birdwatching.
Stargazing
If you're more of a night owl than an early bird (pun intended), then stargazing may be more to your liking. You can stargaze on your own with a pair of strong binoculars or an entry-level telescope. If you don't have your own equipment, many local astronomy groups host stargazing nights that are open to the public, so you can take advantage of theirs. If you have kids or grandkids interested in space, this is a great activity to do with them on clear nights.
Nature Walks
You don't need a specific activity in mind to get out and enjoy nature, so put on your diabetic shoes, pick a local park or trail and go for a nature walk. Some parks also have wheelchair-accessible boardwalks, so you can still do this even if you're not able to walk. If you prefer to have an activity to keep you engaged, get a guide or app to local plants and make it a competition to see who can identify the most on your walk. You can also play "I Spy" with your grandkids if you want to make this a family activity.
Scenic Drives
Even if you can't walk, you can still enjoy the changing scenery by going for a scenic drive near your house. Try to time your drive with the peak bloom season for local trees or flowers so that you can make the most of your scenic drive. Consider packing a picnic and making an entire day of it, and be sure to leave plenty of time to stop and take photos at overlooks along the way. Be sure to wear comfortable Parkinson's clothing that won't chafe during the long drive.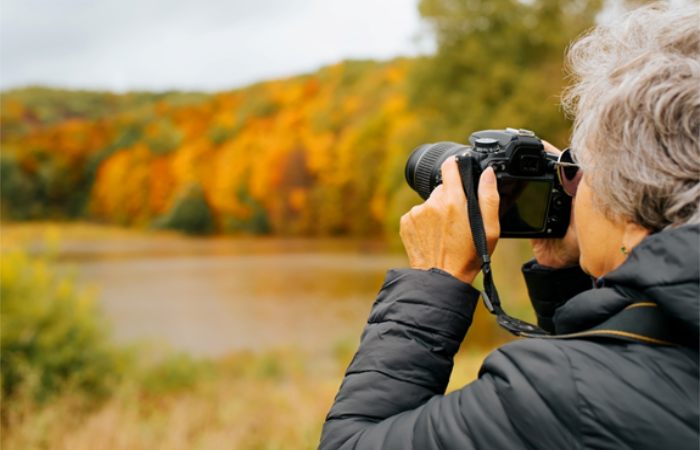 Photography
Speaking of taking photos, that is an excellent excuse for getting outside in the springtime. Modern smartphones are capable enough that you don't need expensive camera equipment in order to enjoy taking photos in your backyard or at your local botanical garden. Experiment with different techniques and frames, and soon you will see the world in a whole new way as you take on a new perspective both literally and metaphorically.
Family Picnics
Spring is the perfect time for picnics, before the weather gets too hot. Of course, you can always have a picnic by yourself whenever you want, but it's also a great opportunity to coordinate a family outing with your kids and grandkids at a local park. Picnics can also be combined with many other ideas on this list, including scenic drives, nature walks, festivals and more.
Farmer's Markets
If you enjoy cooking homemade meals from scratch, then you definitely should pay a visit to your local farmer's market to buy whatever produce is in season. Farmer's markets are generally open on the weekends from spring to fall, and offerings change each week, depending on what vendors are exhibiting and what crops are growing at the time. Buy your ingredients on Saturday, and then cook them up on Sunday for a healthy springtime meal.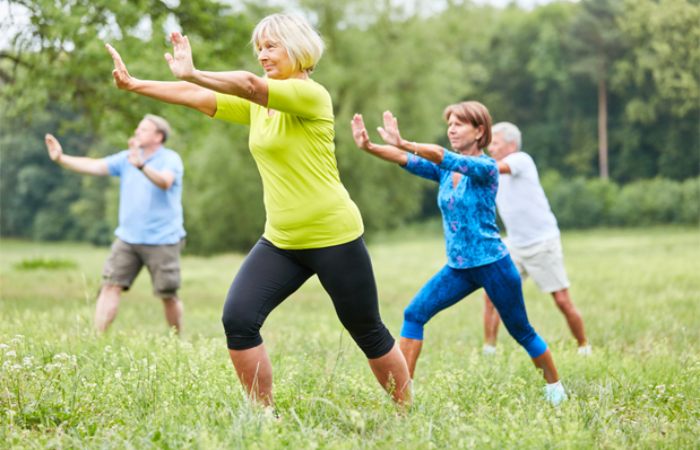 Outdoor Sports
If you are still in good shape, participating in outdoor sports or exercise classes will help you get outside while fulfilling your physical activity requirements. Look for classes and sports teams that cater specifically to seniors so that you can work with a coach or teacher who understands any physical limitations you might have. Even if you're not up for rigorous exercise, you can probably find a gentle yoga or tai chi class that is held outdoors.
Local Festivals
Once the weather starts warming up, many towns and cities host public festivals in parks or on the street. These festivals can span a wide range of themes, from music to food to different cultures and beyond. Check out your local events calendar and pick a couple festivals that appeal to your interests, and then drop by for a few minutes or make a whole day of it.
Spring Cleaning
No list of spring activities would be complete without spring cleaning. If it's been a while since you decluttered your house, the warmer weather is a good time to get rid of old items you no longer use and then clean everything from top to bottom. Be sure to ask for help with carrying boxes down from the attic or moving heavy furniture around — you don't want to risk injuring yourself.
What are your other favorite activities to do in the spring once the weather gets nice? Let us know in the comments below!